India's fascination with gold jewellery dates back to a legacy of about 5000 years in the Indus valley and is a conspicuous expression of the nation's diverse aesthetic and rich cultural heritage. Take a note of these exquisite bijouterie pieces from different regions of the country, that have thrived and traversed down through generations clearly making a mark across the civilisation.
Enlisted below are notable excerpts of some of the famous gold jewellery pieces found in different parts of our country, that continue to strike a chord with the audience's preferences over the years!
Must Read: Some Amazing Benefits of Moon Magic Jewelry
Temple Jewellery: Temple jewellery is regarded as one of the finest, ornate, most exquisite ethnic jewellery that is crafted from vast quantities of gold and designed in numerous forms of gods and goddesses, adorning deities; traditional motifs in the
form of fishes, parrots, peacocks, flowers, leaves etc. This form of jewellery is noted to have originated in the Chola and Pandya dynasties in the southern region of India.
Noteworthy pieces of jewellery include the famous Vankis (armbands), Oddiyanams (waist belts), billai, jadai nagam and talai saaman (ornaments for the hair) apart from necklaces, nose pin, earrings and bangles. It is a significant hair adornment worn by
Bharatanatyam dancers, in general. The jewellery construes more significance in today's date and time; owing to its versatility and demand. It adds a traditional ingenious touch even to a contemporary attire and makes for a perfect investment on
bridal trousseau as well; as it is available in two forms in the market today i.e, pieces made up of gold set with veritable gemstones and gold-plated pieces set with emeralds, synthetic rubies and diamonds!
#1. Gold jewellery in Uttar Pradesh:
This state marks the origin of Paasa (maang tika); widely recognized for its vintage appeal across the globe. Maang tika is a vital gold adornment in the form of a headgear that is available in different levels of intricacy and constitutes a fundamental element as a bridal accessory. It is present in multifarious designs, i.e from a basic dangling design to a chandelier styled layered piece.
#2. Gold jewellery in Assam:
The gold jewellery designs are inspired from wildlife, flora, fauna and musical instruments. Prominent statement gold ornaments include the Motibiri, a drum shaped necklace worn by men and now popularised among womenfolk; and Gamkharu which is a gold bangle made up of splendid floral designs. Other notable pieces include the Kopo phool, Dhul, Lokaparo, Dugdugi, Bena and Japi etc.
#3. Gold jewellery in Jammu and Kashmir:
This explicit tranquil land possesses exquisite jewellery pieces under its realm. One such remarkable bijouterie, worth the mention is 'Dejhoor' which is a favourite traditional earring worn by brides on their auspicious wedding day. Dejhoor is typically, a long pair of gold earrings which primarily hangs on thin gold threads and then passes through the ear.
#4. Gold jewellery in Tamil Nadu:
Linga Padakka Muthu Malai (gold necklace), Oddiyanam (gold waist belt) and Pullaku (gold nose piece) are some of the highly acknowledged bijouterie designs; other than the emblazoned 'temple jewellery' design as already mentioned above.
#5. Gold jewellery in Maharashtra:
Maharashtrian women adorn 'Vaaki' which means a beautiful armlet made up of gold and pulchritudinous motifs. Traditionally, they used to wear it on both their arms, however as time progressed; they have resorted to wearing it on only one arm. The lovely 'Nath' or nose ring is made up of diamonds set in flower shaped cluster of pearls. A single 'ruby' bead is used to further embellish the jewel. Nath
encompasses great importance in Maharashtrian culture.
Must Read: 3 Reasons Why Gold Diamond Earrings Make an Ideal Birthday Gift
#6. Gold jewellery in Bengal:
This place has always been well known for its gold filigree and especial gold jewellery with its dainty work, which has now accomplished a prodigious level of perfection. Some of the phenomenal pieces of bijouterie that could make it to our list include the Chandrahaar; a hip ornament made up of minute gold balls in series of chains held in a criss cross gold wire that led to an intricate filigree pendant with a floral motif. Small filigreed flowers are present on either side, in the form of clasps thereby adding the requisite charm to the wearer.
Other noteworthy designs include the Beloyari churi which is a gold bangle made from especial cut design known as 'beloyari';
Bokul mala – The gold chain's design is inspired from a flower named 'bokul'.

Ratnachur – An adornment designed in a delicate manner wherein the gold ring is attached to a centrepiece that dangles around the back of the wearer's hands and ultimately to an armlet or bracelet.
Must Read: How to Wear Diamond Jewelry Based on Your Profession
#7. Gold jewellery in Rajasthan –
Known for the origin of the highly refined gold 'Kundan', the state encompasses some of the finest yet extraordinary pieces of jewellery that are definitely a sight to behold! The place boasts of n – number of ornate designs in the form of:
Kaanbalis or jhaale: Also known as Sarliya; these are basically earrings that exude a royal and an antique look. The earrings are well crafted using meenakari or kundan work; thereby finishing off as a fashionable yet a traditional ornament.
Haathphool: It is a hand bracelet made up of gold, meenakari, kundan or jadau work. This popular ornament is used to adorn the back of the wrist and palm. It is available in either one ring design or five finger rings design style.
Aad is a rectangular or square choker worn by brides and Kanthi necklaces are also made using kundan or other precious stones such as polki. These elegant pieces are deemed to be a must have jewellery item in Rajasthan.
Notable pieces like Bajuband (gold waistband) and bichuwas (gold ornament for toes) are a favourite among the brides too!

#8. Gold jewellery in Bihar:
Bihar is conceited on its inherent ability to deliver the finest quality of gold or gold-plated necklaces that appear as a thick band wrapped around the neck. Not to forget to mention about the dhokra tribes; who are well known and recognized for designing impeccable pieces of kamarbands and hansulis.
Must Read: 5 Diamond Rings That You Can Consider for an Anniversary Gift
Author Bio: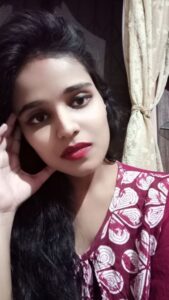 Vijayshree is a self – motivated, enthusiastic professional with a strong interest and passion for art, fashion and style. She has pursued an MBA in International Business & completed her graduation in mass media; specialised in Journalism from the University of Mumbai. She is also a corporate fashion columnist for a corporate magazine.