Most of us are familiar with the process of wading through the numerous catalogues on online stores, only to stare at the cost with a sense of longing because we know we can't afford it at the moment. Well, those days are long gone. With the advent of buy now pay later apps, you can simply purchase that product you have wanted to own for the longest time and pay the amount back when you purse strings aren't so tight.
Now, upon hearing the term 'buy now pay later', you might be worried about a credit score check. However, you can shed any such concerns behind, since buy now pay later apps seldom consider your credit record. Instead, they rely on sources of data, including your financial records and your shopping history, to determine if they can, in fact, lend you a safe amount of money at that point in time. Indeed, buy now pay later apps have turned out to be major disrupters in the financial arena and have been making a splash in the market for quite some time now.
Must Read: Innovative Ways to Eliminate or Reduce Debt
These apps ensure that shopping becomes more accessible to the people who are on a budget, which is why there are no fixed amounts or maintenance fees to be paid. All you have to do is register with the app, provide your banking details, and voila, you will be presented with the facility to shop now and pay later. Buy now pay later apps, in this way, have been revolutionising the payment process and are ensuring that their users receive only the highest level of convenience during their online shopping experience.
So, if you too want to get started on your journey with credit payments, then here are some best buy now pay later apps out there.
#1. Lazypay –


Lazypay's Buy Now Pay Later – is growing increasingly popular as a payment method. It offers its buy now pay later facilities for a large number of products, right from food deliveries to cabs. It has an extremely user-friendly interface, which simply requires you to register by providing a few financial and personal details. Lazypay presents its users with EMI options for those who wish to pay using a breakdown model, as well as the option to pay the entire amount within a short, stipulated time period.
#2. Cashe –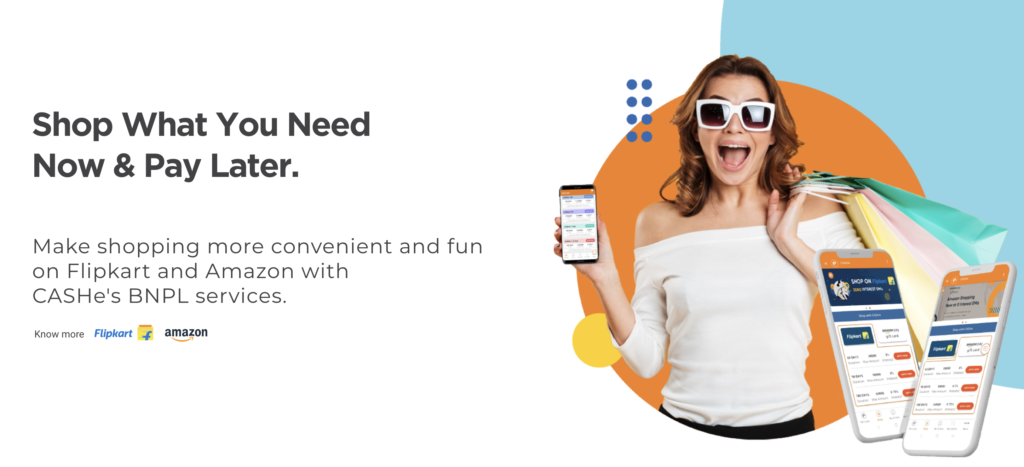 Cashe's Buy Now Pay Later – With the help of case, you can essentially bid your credit cards goodbye since it allows you to avail that favourite product of yours, with the help of interest-free EMIs, along with other payback models that suit your requirements. It is a great tool to aid online shopping experience, especially when buying from eCommerce giants.
Must Read: Best 5 Best Times To Make Credit Card Payment Tips You Will Read This Year
#3. Amazon Pay Later –
Amazon is one of the favourite e-commerce shopping platforms, with its plethora of product options. This platform has also rolled out a buy now pay later option to provide their users with an immediate credit facility to never compromise on their shopping experience. It lets you track your purchases, along with EMI options ranging from 3 to 12 months.
#4. Flipkart Pay Later –
Following the footsteps of its counterparts, Flipkart has also come up with a shop now pay later feature, through which you can purchase the product immediately and receive a payment period extending to the fifth day of the successive month. It also gives an added benefit of keeping track of any additional bills, which you can pay using this platform itself.
#5. Post pe –
Post pe is quite a familiar name among users who opt for buy now pay later options. Owned by a major fintech company, Post pe allows its clients to make purchases from absolutely any platform and then pay for it at a later date. By giving you the option to track your recurring expenses as well, this platform is quite the well-rounded financial payment service.
#6. Paytm Postpaid –
While this app primarily served to make regular payments for online platforms, it has now come up with an added buy now pay later feature, through which you can make digital and physical payments to the sellers who accept this mode of payment. This gives you a generous one-month credit period, available at 0% interest.
#7. Simpl –
Simpl is quite the wish pond when it comes to shopping now pay later options. Once you sign up with the help of a few simple steps, you can enjoy numerous credit benefits, which only seem to increase with your usage of this platform. It offers interest-free payment periods, along with EMI options, to those who do not want to bear the load all at once.
#8. Slice –
Unlike most buy now pay later options; Slice comes in a credit card rather than an online platform. Accepted by millions of sellers at a global scale, it offers its users payment options such as EMIs and urgent cash payment features. All you should do is register to be a member, and once you have been approved, you will be presented with interest-free EMI options up to a 6-month time period. Diligent payments can also earn you numerous rewards and cashback offers.
#9. FlexPay –
FlexPay, as the name suggests, is a flexible payment platform. It offers a well-rounded service by offering you options to transfer money and make payments for monthly expenditures. Armed with superior security features, FlexPay also provides you with detailed expense reports for your buy now pay later transactions so that you can keep track of your expenditure.
#10. Bullet Pay Later –
Bullet pay later is an option that you can avail with the help of its credit card, alongside an online platform that helps you keep track of it. This app gives you a credit amount of up to Rs. 10,000, available interest-free. All you have to do is become a member of this UPI card and avail its benefits.
#11. Freecharge Pay Later –
Freecharge is a shop now pay later app that gives you the option to pay for your products at a feasible date, simply by registering and providing a few financial details.
#12. Mobiwik Pay later –
Mobiwik is a versatile payment app that comes with buy now pay later options, which are available in the form of no-cost EMIs and singular payment periods.
#13. Pay Later by ICICI Bank –
Resembling a credit card, this feature can be activated through the usage of net banking, after which you will have the option to shop anytime, recharge your data
plans, and even pay your bills.
#14. Ola Money Postpaid –
The Ola Postpaid feature not only lets you book cabs and pay for it later, but this feature also extends to a number of other services such as for movie tickets and food deliveries.
#15. Krazybee–
Krazybee is growing at an exponential rate, with its new buy now pay later feature. It offers credit amounts extending from Rs. 1,000 to Rs. 20,000, along with low interest rates and a high credit period.
#16. Quiklo –
Quiklo offers credit on asset products and EMI options, which are all available at extremely low rates.
#17. ePayLater –
EpayLater offers convenient payment options, with the facility to obtain up to Rs. 20,000 in credit and a secure interface to pay for any of your favourite products.
Must Read: 8 Tips to Manage Your Loans Better by ExpertatEverything.in
Frequently Asked Questions on Buy Now Pay Later Apps in India
#1. Which Buy Now Pay Later App is Best in India?
CASHe is one of the best pay later apps, with a seamless interface and low-cost credit options.
#2. How Safe Are PayLater Apps?
Pay Later apps are pretty safe since most good apps have a very secure system in place. However, make sure to read the conditions of the service beforehand.
#3. Can I Use Pay Later Apps Without The Internet?
No, you will need clear access to the internet in order to make use of pay later apps.
#4. How To Pay Later On Zomato Using Pay Later Apps?
After you have placed your order on Zomato, you can either head over to the UPI or net banking payment option and then pick the Pay Later feature.
#5. What Is The LazyPay Pay Later App Limit?
The maximum limit of this app's pay later feature is Rs. 1,00,000.
#6. Is LazyPay RBI Approved?
Yes, Lazypay has been registered with the RBI.